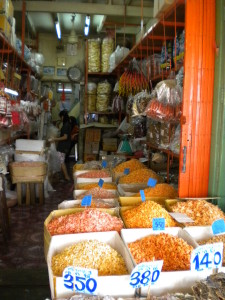 Our final few days in Thailand were spent in Bangkok, near Khao San Road. This is the oldest part of Bangkok, and we were delighted by the aliveness and variety of life here. We stayed at the Viengtai Hotel which was a great basic hotel close to many activities. Wifi was free in a restaurant across the street so I spent a bit of time over there when I needed to catch up.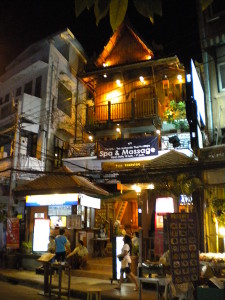 We shopped, bought souvenirs, and went for a 90 minute foot and body massage in the oldest building left in this part of Bangkok. It was an exquisite experience from the first cup of tea while having my feet washed (I felt like a little kid again being taken care of) and finally the totally relaxing and rejuvenating massage. I walked away feeling like I was floating down the street.
As a totally different experience we visited a natural healing centre on the other side of Bangkok. The Chinese medicine doctor and staff were highly skilled and we spent some time with them. We had met the doctor at a seminar in Hua Hin and thought we would meet up with him while we were in Bangkok. He had t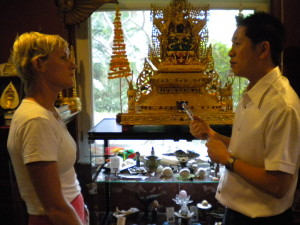 old me he had some photos of UFOs he had taken at a meditation retreat in Tibet(!). I was curious to see his photos so he gave me his card and we looked him up. The photos were on display in his main room and we found his stories fascinating. He could describe in detail the beings he could see in these small discs across the sky. He also showed us his treasured cabinet of healing stones. One by one he handed me some egg shaped onyx stones. He asked me where in my body could I feel anything. After about 5 seconds my throat began to feel tight and I could not even speak. I raised my hand to my throat and he took it back. He handed me the next one and my head immediately felt constricted both in the front and back of my skull. He handed me another and I felt my lower stomach begin to tingle. I listened, wide-eyed as he took each label from under the corresponding stones and read the area of healing for each: throat, head and stomach. Never before had I experienced energy in stones with specific areas. He explained that he searches out different healing stones for different purposes. Then he took out an
ancient "healing bowl". Filled with water this simple brass bowl with two upright handles produced some eerie but beautiful musical sounds as he 'played' the sounds of fire, wind, earth and water. At one point the harmonics created a boiling reaction in the water as it responded to the different sounds. This visit was a highlight of my holiday.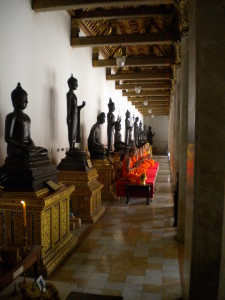 And finally, the temples; we travelled around Bangkok in a tuk-tuk looking at the wonderful Buddhas adorned in gold. Some were inside temples and some were in the courtyards. We were treated to chanting monks at one, which drew me into an immediate state of bliss. All of the temples and Buddhas were awe inspiring and I could feel the energy of reverence.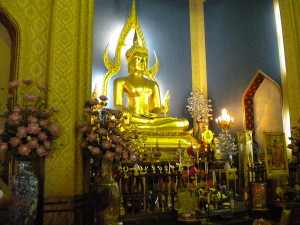 The last temple was Wat Pho, adjacent to the Royal Palace grounds. We hired a guide and got to hear about the first massage school in Thailand, there at the Wat Pho grounds. With no teacher, only murals with anatomy diagrams they learned and practiced on each other.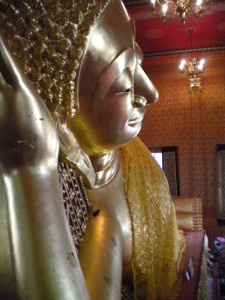 We moved on to see some of the 1250 Buddhas in Wat Pho, with the final one being the Reclining Buddha, majestic yet at peace. The guide told us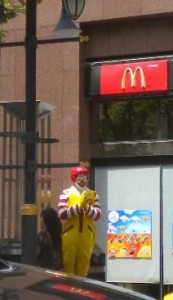 this was a very special Buddha because this was his last position before the great one ascended forever.
What a fabulous place. We felt safe, happy and flowing. I learned that the Thai people do not search for happiness. Sometimes they are happy and sometimes they are not. But it had nothing to do with their outer circumstances. One thing that stood out above all else was their thankfulness toward anything and everything, toward life itself. Korp Kun Ka.