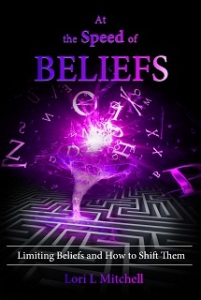 I hope you share in my celebration as the latest feedback on "At the Speed of Beliefs" have been coming in lately. It warms my heart to see that people are getting something out of this work and my messages.
You have been a part of this too, so thank you.
(all unsolicited reviews)
8 Oct 2015 facebook.com
Amanda Ahern: "Read the book and found it very useful and interesting…especially about how to actually change your beliefs….thanks Lori, you are a legend. Namaste, Amanda"
September 25, 2015 amazon.com
Lindi: "Excellent! Love anything Lori Mitchell does. This is no exception! "
Sep 15, 2015 09:01PM Goodreads.com
Troy Staker rated a book 4 of 5 stars
"Very good book!"
To read more about my books:
https://speed-manifesting.com/books/
Abundant blessings,
Lori
p.s. I am writing my next book now. It's a teaching novel about attracting money and keeping it. It's also a love story. Thoroughly enjoying the creative process of writing a fictional story. Watch this space.