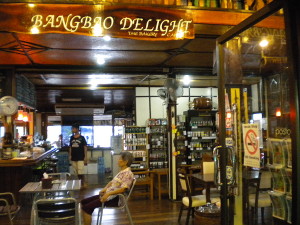 Who wouldv'e thought that a little fishing village could offer so much serenity and simplicity? Gayel and I decided to look for that sunrise and headed for Bang Bao at the southern end of Koh Chang. When we arrived we started down a small walkway with shops on either side. We soon realised that we were on the pier itself, and had overshot our intended bun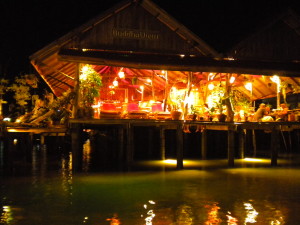 galow sites.
However with all our bags we didn't want to go all the way back so we found a couple nearby 'guest room' resorts. The Buddha View appealed so we booked in for one night. It is beautifully appointed with very reasonable rates (800-1200 Thai Bhat per night – that's about $40-60 Australian for 2 people). These guest r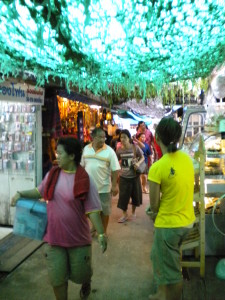 ooms are over the water, generally with their own restaurant but there is plenty of choice here.
We were thrilled that we decided to come down here, and got much more than we expected. As we walked the rest of the pier the fishing and scuba boats were all coming in. The lighthouse at the end was a nice place to view both this pie
r-town and the surrounding bay and islands. We have had mixed weather, but always warm.
Last night at the Buddha View we had dinner sitting at a glass floor-table with our legs dangling underneathe and the water below. As usual we had a spectacular Pad dish with beef, peppercorns and holy basil.
Toda
y we wandered the pier-shops. Since it is Saturday and they are still celebrating Songkran it was quiet. Gayel had a crepe with cashew and chocolate thinly spread inside, and I had frozen ices (I noticed I was the only adult having these).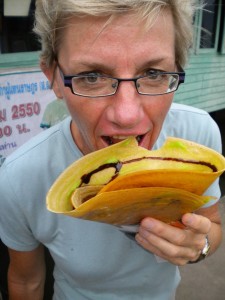 Bang Bao only got road access 10 years ago, so it is still slower than the rest of the other places we've just been to. This is very different, and not your typical hotel-pool-restaurant-beach experience, but one that I am so glad I got to experience.
As for Cambodia, we both feel it's not the next step, even though we are close to the border. It all feels complicated and blocked, with entry visas, 12 hour bus, then taxi rides. As we were standing at a tourist desk gathering all this info I turned to Gayel and said, "this feels like Cambodia is not next, so let's look at Hua Hin." At that moment the information agent beamed and said "oh, I love Hua Hin! I just came back from a week there." She gave us two other places to explore around there too. So off we go back through Bangkok and on South to Hua Hin, to see what adventures await us there.