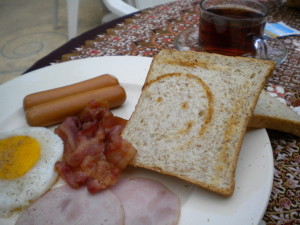 Yesterday was a bit of a blur, with 15 hours travel around the east side of the Gulf of Thailand to the west. This morning we awoke in a lovely hotel room to a smiling breakfast – happy Thailand again!
I don't drink alcohol so I have no excuse for the lack of detail around the events of yesterday. We jus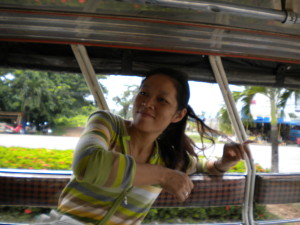 t went without reservations from one mode of transport to the next with helpful English speaking Thais showing up just at the right time. The travel in itself was easy, flowing and pleasant. Trucks, the ferry, more trucks, and buses through Trat, back through Chanthaburi to Bangkok. Our 6 hour bus ride was air conditioned, with a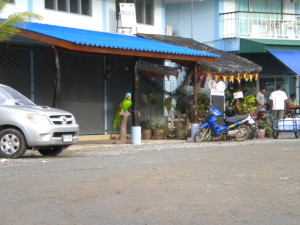 "bus hostess" plying us with coca-cola until our lunch stop, where we got to experience our first squat toilet in Thailand.
No comment necessary.
On the bus we read for a while, then shared a headphone as Gayel and I listened to Marianne Williamson (wow!) and Wayne Dyer audios on her Apple laptop, until we depleted the battery.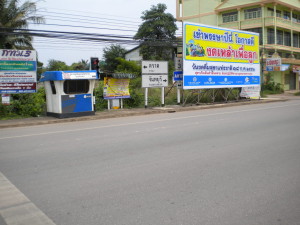 We got off at the Bangkok Ekkamai (eastern) bus station and taxied through the post-Songkran city to the southern bus station, where a dutiful and helpful information "officer" escorted us to the Hua Hin ticketing booth, then to a great little eatery for more yum Thai food as we waited for our bus departure. We wandere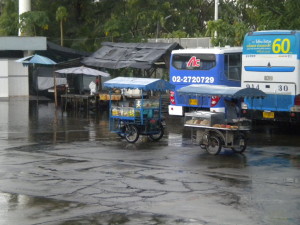 d off track until we found our bus and continued on for another 3+ hours where we and our bags got off in the middle of the Hua Hin nightlife at 9:30pm. With only a name of a recommended hotel (My Place) we hopped in a taxi and 15 minutes later we were climbing into our cosy beds. Wow, 15 hours and we came so far, but focused on our final destination we didn't think about the time or travel. When we added up the costs it was only $50 each, which was surprising considering the distance and time we travelled.
What was the best part of the day? Mine was a moment in time where I got to thank the helpful information officer at the southern bus station. He and I were locked in a moment of gratitude as I thanked him Thai style, and he responded with the same. I don't have a photo of that moment for you, but it is locked in my heart and my mind; my hands touching in front of my face, bowing slightly with me saying "Korp Kun Ka" as he faced me, doing the same.